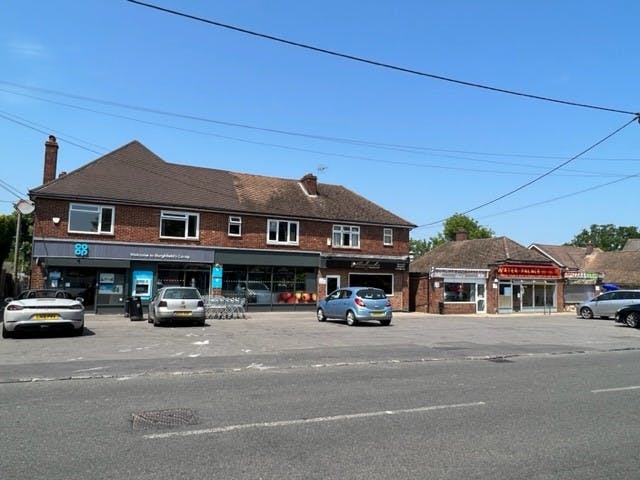 | | |
| --- | --- |
| Property Type | Investment |
| Availability | For Sale |
| Size | 6084 sqft |
| Energy Performance Rating | N/A |
Parade of Shops with Flats above
---
LOCATION
Burghfield Common Is located 5 miles west of Reading via the A4 trunk road. The town is conveniently positioned just 7 miles from junction 11 of the M4 motorway giving fast access to both Birmingham in the north and London to the south. Since the 1980s the population of Burghfield has nearly doubled with the construction of many new housing estates making it a dormitory for Reading, Newbury, and Basingstoke. The property is situated on Clayhill Road close to its junction with Woodlands Avenue and serves a densely populated residential catchment area.
KEY POINTS
Attractive Unbroken Retail Parade
Anchored by a Co-op Convenience Store
Self-Contained residential upper parts
Freehold
Current total rent £ 110,679 pa (including vendor top up)
Offers sought in the region of £ 1,450,000 stc
Net Initial blended yield of 7% on the Co-op rent & 7.5% on the local covenants
The premises comprise a double fronted Co-op Store, a two storey restaurant unit plus 3 further units comprising 2 takaways plus one shop. The buildings are of brick construction under pitched and tiled roofs. The property benefits from dedicated off street car parking to the front of the parade. In addition, at the rear, there is an undeveloped strip of land which could be suitable for development, subject to planning.
< Back to properties
VIEW SHORTLIST
Download Marketing Brochure
Download 31 31A 33 33A Clayhill Road Agreement for Lease.pdf
Download 31 31A 33 33A Clayhill Road Lease.pdf
Download 31 31A 33 33A Clayhill Road Deed of Variation of Agreement to Lease.pdf
Download 31 31A 33 33A Clayhill Road Deed of Variation of Lease.pdf
Download 31 31A 33 33A Clayhill Road Insurance Waiver.pdf
Download 35 Clayhill Road Lease.pdf
Download 35 Clayhill Road AGA.pdf
Download 35 Clayhill Road Licence to Assign.pdf
Download 35 Clayhill Road Rent Deposit Deed .pdf
Download 37 Clayhill Road Lease.pdf
Download 37 Clayhill Road AGA.pdf
Download 37 Clayhill Road Licence to Assign assignee.pdf
Download 37 Clayhill Road Licence to Assign assignor.pdf
Download 37 Clayhill Road Rent Deposit.pdf
Download 39 Clayhill Road Lease.pdf
Download 39 Clayhill Road Rent Deposit Deed.pdf
Download 41 Clayhill Road Lease.pdf
Download 41 Clayhill Road AGA .pdf
Download 41 Clayhill Road Licence to Assign.pdf
Download 41 Clayhill Road Rent Deposit.pdf
Download Title Register BK326277.pdf
Download Title Plan BK326277.pdf
Download Right of Way 1965.pdf
Download Drainage Deed 1996.pdf
Download Drainage Deed Termination 2018.pdf
Download Terminable Parking Licence 1965.pdf
Download Defibrillator.pdf
Download EPC 31/33 Clayhill Road Shop.pdf
Download EPC 31A Clayhill Road Flat exemption.pdf
Download EPC 33A Clayhill Road Flat.pdf
Download EPC 35/35a Clayhill Road Shop/Flat.pdf
Download EPC 37 Clayhill Road Shop.pdf
Download EPC 39 Clayhill Road Shop.pdf
Download EPC 41 Clayhill Road Shop.pdf
Viewing & Further Information
For further information, or if you would like to arrange a viewing, please contact our agents:
Michael Braier
07940 528399
CONTACT AGENT
---
Stephen Rajbenbach
07957 355397
CONTACT AGENT
---